1000 g
Peanut Butter Smooth 100% – 1000 g
KFD Peanut Butter is a 100% natural nut butter made out of roasted peanuts. Production process uses only natural methods of grinding till smooth without any unnecessary additives.
Our product does not contain any additives, which makes it a healthier alternative to other similar products available on market shelves: nut butters and creams.
It is a great solution for all sports and healthy lifestyle enthusiasts because not only does it provide a great source of nutrients, but also satisfies sweet tooth.
KFD Peanut Butter contains significant amount of dietary fiber and unsaturated fats (mono- and polyunsaturated fatty acids), as well as of plant-base protein, vitamins and minerals (with highlight on vitamin B3 and potassium).
KFD Peanut Butter does not contain:
– palm oil,
– salt,
– sugar.
Nett weight: 1000 g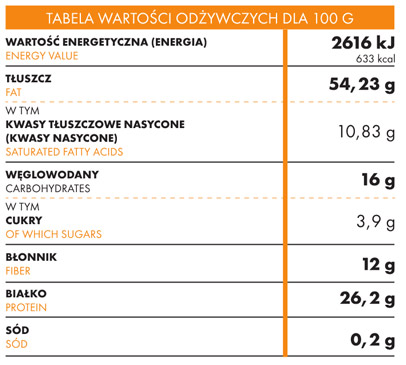 Warnings: Keep in a dry and cool place. Mix before using, due to a natural process of splitting fat from nutmass. Once opened, consume within 3 months.